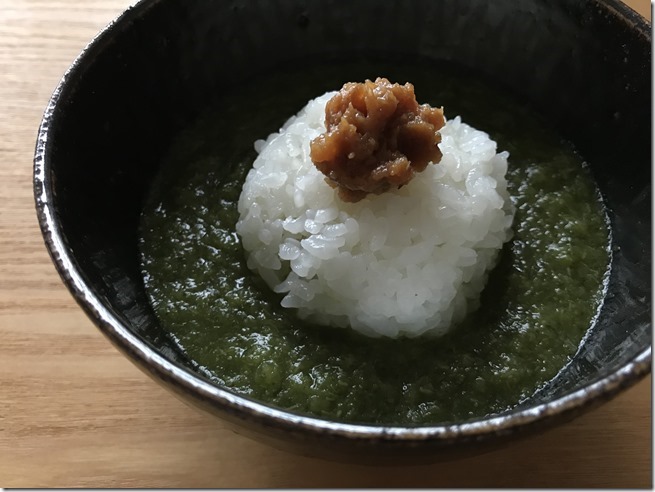 Burnt sesame oil miso, a mixture of miso with dark roasted (hence burnt) sesame oil is one of my favorite condiments. I keep a jar of it in my fridge at all times. It's perfect atop a bowl of rice and vegetables. Smells soo good.
I like to grind a bit of black pepper and give the whole thing a gentle mixing. Alternately, you might keep the miso in a separate place on your plate and fetch as your morsel requires. Either way, it's delicious and satisfying.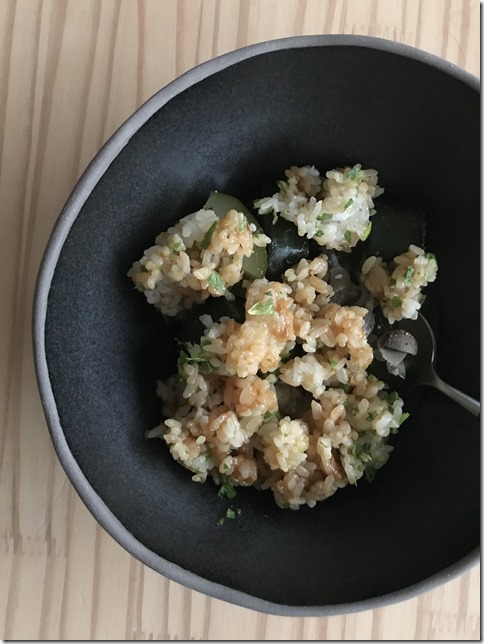 I've been having this bowl of rice, veggies, and burnt sesame oil miso almost every day for — a while. It just never gets old. You'll taste the saltiness and the natural umami at first, then notice a smidgen of sweetness that helps bind together whatever you have in your bowl.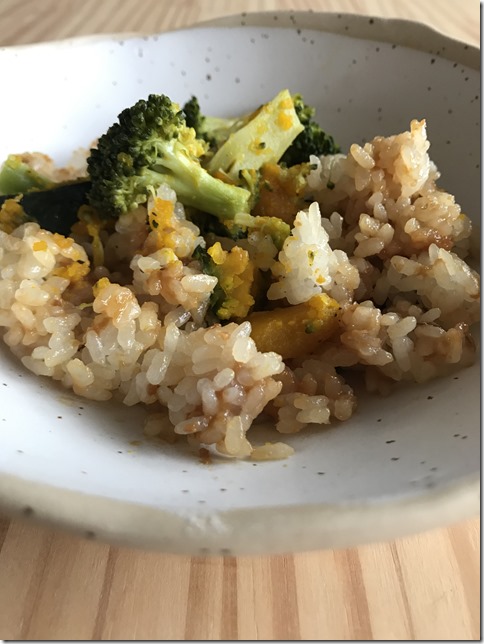 It's ridiculously simple to make. There's no heating or aging involved. All you need to do is mix one-part sesame oil into ten-part miso in a clean jar. Make as much or as little as you like.
If refrigerated, this miso will keep for a long time, which is as long as the two ingredients will. I'd say a year, though I doubt it will last that long. But it's always a good idea to check the expiration dates.
To make this recipe, you'll need good miso. Avoid using "dashi iri" miso, which has MSG or umami seasonings already blended in. You also need a bottle of very, very dark sesame oil. That's it.
how to make burnt sesame oil miso
Get miso and dark roasted sesame oil.
Get a clean jar.
Place ten-part miso to one-part dark roasted sesame oil in the jar.
Stir gently until well-blended. It'll take a minute or two. I use a pair of bamboo chopsticks for stirring, but you can use a small spatula or a butter knife or a spoon, all of which has worked well.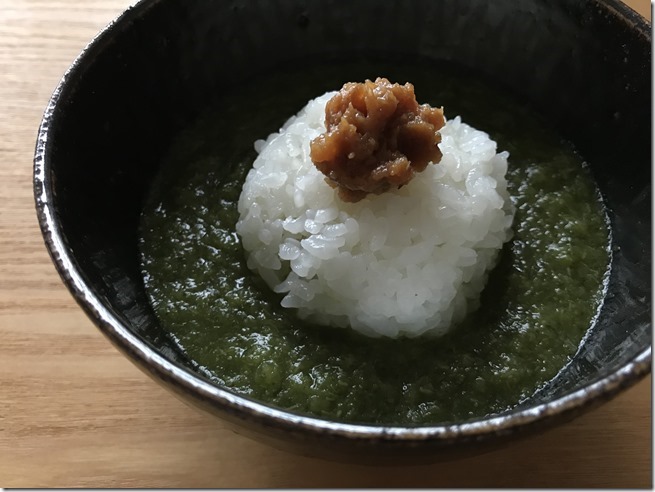 sesame oil recommendations
Kuki Hojun Goma Abura 九鬼 芳醇胡麻油
Oh my. Dark, potent, and fragrant. A small 105g bottle costs about 450 yen. Worth it. Available at one of the many SEIJO ISHII outposts.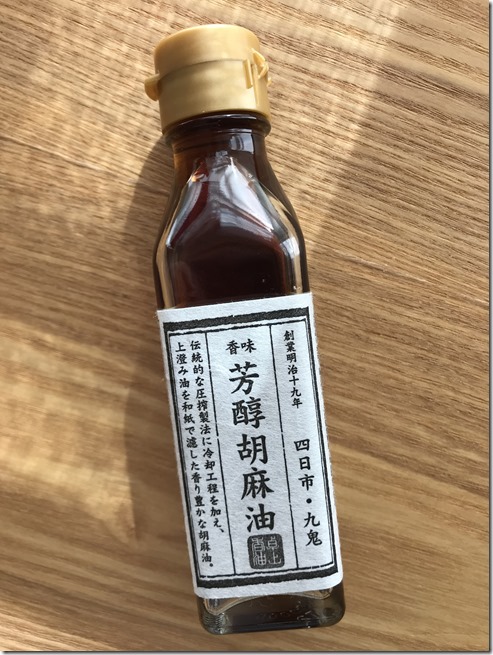 Maruhon Taiko Goma Abura Koikuchi マルホン 太香胡麻油 濃口
This one is slightly milder very dark roasted burnt sesame oil. Yes, there's such a thing. I love this sesame oil and always have a small bottle in my cupboard.  330yen/150g at SEIJO ISHII. Which one to get? Get both.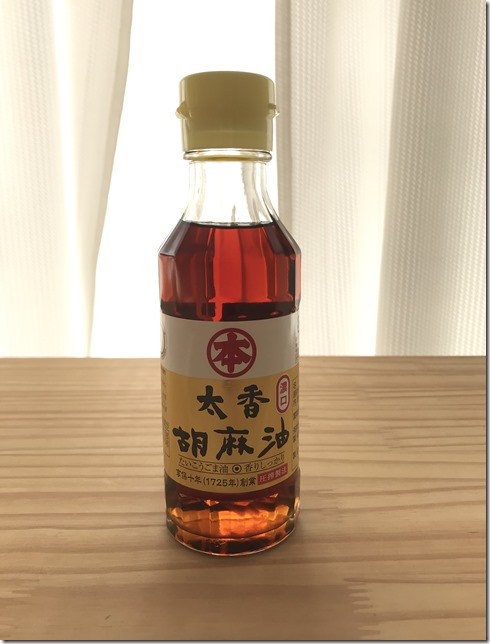 miso recommendations
Left: My current favorite! Yamauchi Honten Mutenka Maboroshi no Miso Mugi Kome Awase 500g 山内本店 無添加まぼろしの味噌 米麦合せ 627yen/500g at Tokyu Store and other supermarkets
Right: Sweeter of the two. Fundokin Namazume Mutenka Awase Miso 500g フンドーキン生詰無添加あわせみそ 335yen/500g at Tokyu Store and other supermarkets
Both are wonderful. Again, I suggest you get both.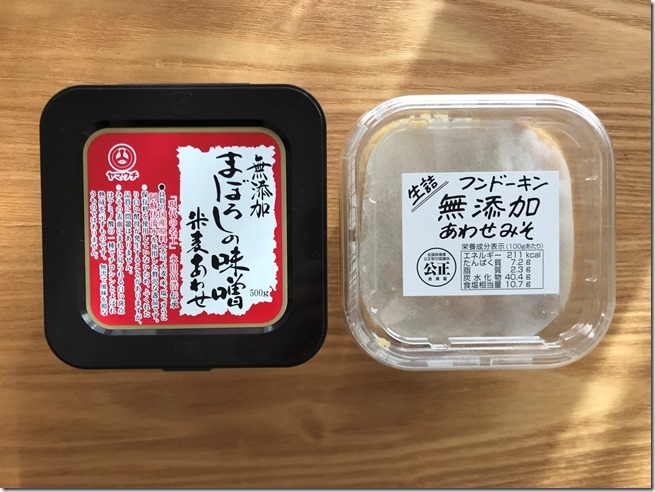 random fermented stuff you'll find in my fridge
From top clockwise: reduced-salt shoyu koji, burnt sesame oil miso made with Fundokin miso, burnt sesame oil miso with Yamauchi miso, shio koji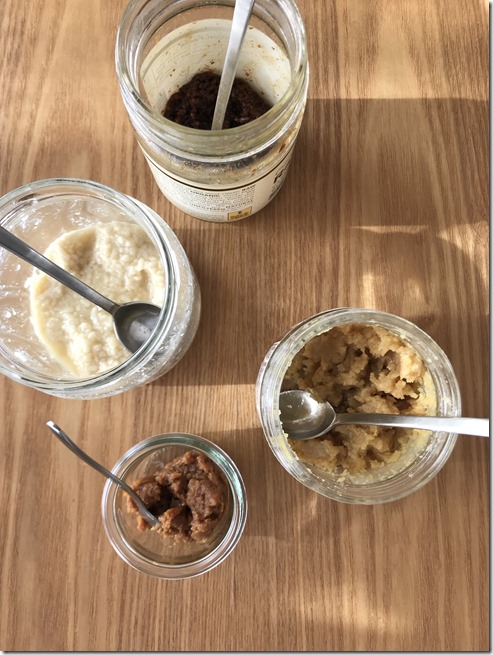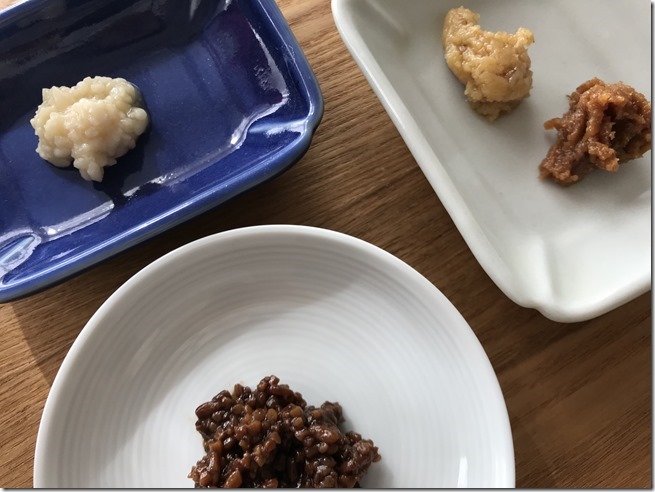 Well then. Enjoy!
本日のスペシャル
ごま油みそのレシピを訊かれたので焼き直し・・。
最近の1日1新:ベーグルカフェNICO、古書店AMIS
最近の1日1冊:Airbnbに関する本いろいろ、Anna Politkovskaya「A Russian Diary: A Journalist's Final Account of Life, Corruption, and Death in Putin's Russia」ちょびちょび読んでいます。著者はロシアのジャーナリストで、暗殺されたときにこんなわたしもニュースをみました。こういう内容はふだんは(怖がりだから)避けます。が、古書店でどうしても欲しくなってハードカバーを購入。800円。日記だからかな。